A.C. SPHINX NEWS ROOM
---
Game One: Injured Goalie!
Special wishes go to our brave goalie who sustained injury in the line of duty, during our very first game. Suspiciously, Amin sustained his injury like 20 yds outside his penalty box. Speculations have been thrown around as to what he was doing there. As he fell, he let out an "AAAAARGHH" that shattered through the four corners of the earth (actually there were three of those in total), bringing the cheering crowds to an abrubt quietness. Yet all ended well, when 10 minutes later Amin assisted by 2 of his teammates, hoddled out against a standing ovation. The melancholic goalie was later spotted squatting in the bleachers, and dabbing his knee with a bagful of ice. In related news, an anonymous comment was taken from a fellow team member nicknamed 'el nadl' who admitted: "frankly, I don't mind the incident, it gave me a chance to catch my breath against those ultra-fit opponents". Other team members thourougly denied any connection to the comment, and expressed sincere remorse.
Seriously though, best wishes for a fast recovery Amino Man!!! :)))

---
Game Two: Glorious Goal obscured by loss!
He flew in the air with the grace of a ballerina, struck the ball with the precision of a sniper, and watched the ball shake the back of the net as he fell to the floor like a leaf from a tree. ROOOAAAR, the audience was stirred in elation at Gamal El Din's triumphant goal. Then everyone looked up and noticed that the score was 8-3 to the advantage of the opponents, so they just sat down again. After the match, Gamal el Din humbly noted: "I saw a goal like that in the Mexican news last night, so I thought, heck, why not!" (disclaimer: innacurate media source).
On the other hand, Rehab took a late shot that was rebounded by the goalie. After confusion in the penalty box, the disoriented player found the ball rolling to his feet for a golden opportunity to score. Rehab took a bizarre swipe that landed in the hands of the surprised goalie. The tall midfielder looked up as if to say "wait, you mean the ball was supposed to go IN the net??". The late miss caused some controversy in the locker room, one angry player was hoping that the team would tie, though there were 30 sec left. After the game, reporters asked Rehab for his reaction to the miss, "It iz a conzbiracy", he asserted, "I zmell zionizts!"
Other scorers included Yasar Bora, the Turkish national, and Khaled Haggag, the team's leading scorer.
Their second loss in a row, the team had to be escorted by security, from the back, to their coach to avoid disgruntled fans.
---
Game Three: Ya lahwi, Ya lahwi!


Whatever!

It sounds more like a 'walkie talkie code' than a soccer game score: Ten-Four.

AC Sphinx actually went off on a good start. Gamal El Din sent off a beautiful lob from center field to bring the score to an equaliser, 1-1. Khaled Haggag, the team lead scorer, then wacked a second goal home, smack in the back of the net, on the second attempt. For the first time in it's short career, AC Sphinx was up. Everything looked good, all was happy.

Then the goals rained on the Egyptian team, who ran about the field screaming, scared and confused. Amin, the previously injured goalkeeper was back among the team's ranks to concede 7 delicious goals. The still hurt goalie was understandbly reluctant to dive at the ball as it buzzed by his left and right into the net. The defense was as permeable as a fishing net.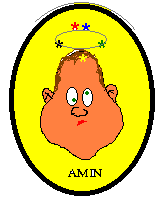 Comments:
"I miss the good old days when we used to get beat by only 9 goals" reminsced one nostalgic player.
"Mama Nagwa always said, bokra el shams 7atetla3!" said another optimistic player who spoke on condition of anonimity.
"Deek om da faree2!" grumbled yet another.
Khorshid took over as goalie in the second half. He got his behind walloped with more than 30 shots blasting into his head and other body parts, but he held his ground. The overwhelmed but stubborn player could be heard as he tormented the other team's offense: "come on white boy, is that the best you can do?!", and then BOOM, another shot from an angry opponent would blast him in the face. He let only 3 goals in the whole half, 2 being unstoppable, and the third fumbling through his fingers and into the goal. "Nobody better lay a finger on my "Butter" fingers ", chanted the crowds.



Later in the second half, Amin, who had been subbed out for the rest of the game, was found collapsed on the pitch. How? When? Why? It turns out the persistent player was trying to sub in for someone when his knee ligament screwed up again. poor Amin had only taken two steps when he fell flat to the ground. He was finally carried off the pitch.
The other two goals were scored by Amer and Gamal El Din. A defensive mistake on behalf of the opponents had Amer finding himself completely alone one on one with the goalie. He giggled his way to the goal (Milla style), comfortably slotting the ball into the net. Stellar Gamal El Din knocked in the last goal off of a beautiful pass from Haggag.



All in all, AC Sphinx claims that regardless of score, they will never lose their team spirit. "We will win this league, we will come back" laughed the team captain hysterically.
---
Game Four: A.C. Stinx!
A fourth game and a fourth straight loss.
There were too few players, hardly any subs.
"We seemed to run pretty well... though most of the time it was without the ball!" said the team's spokesman.
Everything seemed to go wrong. At one point, out of place defender Hani "gadillio" Gadallah
darted into the opponents half of the field. Completely alone with the ball, bystanders described the experience as what seemed as "the dance of the sugar plum fairy" as featured in tchaikovky's "The Nutcraker". The ball rolled away as he watched in agony.
10-3, a typical score was for some reason not a shock. "My dream is not to win anymore" said a midfielder, "my dream is to lose honorably"!
Injured goalie turned self-proclaimed coach, Amin, was jumping up and down on the side line. "Are you blind ref", were the only words he uttered.
"I am hoping something good can come out of this" said a defender, "like a book or movie deal".
"Don't speaking like this" snapped his comrade, "Egyptians can breaking through the rocks... our ancestors building the pyramidz and making Layali el Hilmiya".
All in all, we're just another brick in the wall.

---
Game Five: Scientists agasp!
Ok, so they suck, so they lose every game by a huge margin, but how do they do it so systematically:
9-4 9-3 10-4 10-3 10-2
"There is an eerie trend here", said senior scientist James White, "my researchers are working on explaining it".
Meanwhile, the soccer team itself were engaged in their own debate:
"48 goals against us in 5 games, you'd think this is volleyball, some soccer teams don't get that many scored against them in a full league of 90 min games, never mind 45 min games!"
"Hey, as long as we don't get beat by more than 10 goals per game, I am happy"
"I have never been so humiliated in my whole life", wept a player who insisted he not be identified (Khaled Haggag!!!). "I can personally think of worse moments for you" smirked another palyer who also refused to be identified (Ahmed Attiah).
This time there were more than enough subs, newcomers Chris Hristov, Kareem el Hilaly, Rushdie, Basim, Ahmed Attiah, Bilal, and Eloy were all added to the team's bench.

Yet the score was 10-2. The only bright moment was through a great goal by Hammad Amer.

"We have to change our status, we are a team, not a herd"! said the coach.

Now that AC. Sphinx has played all 5 teams, they get to play them again.

INTIQAM AL GABABERA!!!
Revenge of the .... gababera (?!)

---
Game Six: SUPRISE!!
Wa7ed, etnein, talata……. Gooooooooooooon!
Un, dos, tres…. Gooooooooooooooooooool!
Une, deux, trois….. Gooooooooooooooooool!
One, two, three….. Goooooooooaaaaaaaaal!
Bir, iki, Uc….. Goooooooooooooooooool!
I wrote this special report after just having come back from the game, my uniform is still on, I am hot, weary, and anxious to hit the shower, yet here I am pecking away at the keyboard, like a maniac. I have already suffered two joyous epileptic attacks on my way back from the "stadium" during which I earnestly tried to swallow my tongue… Why all this you ask?….. WE WON! 7-6! Thanks primarily to serious team reform, and to the scoring abilities of a prodigal striker…more on him later.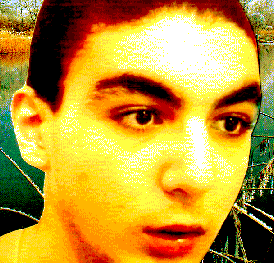 Rehab's reaction to the win -
Painting by Hassanein Remembrandt
There was some mixed emotions after the Sphinx's victory against the primarily Irish team:
"It is a very strange feeling to be on the winning side, I have never known such luxury."
"Yalla nelattash le ba3deena just to make sure it is not a dream!" (that motion was - not surprisingly - rejected unanimously)
"YEAH white boys! Drunken Irish!" taunted one frantic, over-reacting player as he was held back by his team mates. "In your face! DID you think I was about to let a bunch of Conan O'Briens, running around the field, win this thing! HA!!"
"Now, I am actually not ashamed to admit to my kids that I really am on this team - not just a visiting player as I had maintained all along!"
"I feel guilty, like I am going to have to pay for this pleasure later on during the week… I just hope it is not my thesis presentation!"
"We weren't on Candid Camera, were we?"

"I just wanted to saying to all people who doubting us: SHUT UP YOUR MOUTH, look at us now, he3 he3!"
Not to mention one of their goals was from a belen (penalty).
The truth is TEAM WORK kicked in!

Well, It all started last Sunday when Amin, Haggag, Rehab, and Gadalla met over shisha at the Cleopatra café on kedzie (don't go there, the place sucks!) The four of us set up a reform plan that was later avidly and wholeheartedly backed up by the whole team. Team positions were accounted for, weaknesses were analyzed, and rules and regulations were set forth.

It was very refreshing to see that every single one of the 14 players, on our team roster and mailing list, responded favorably to the email I sent out and backed up the reform plan. AC SPHINX had finally awoken.

TODAY, On the pitch, AC Sphinx showed that they could walk the talk.

However, there was more to it than just good reform and reorganization:

Quintuplets

Striker Gamal El Din shocked everyone present with an amazing performance that rewarded his teammates' efforts with their first win. Even though Kamil Gamal El Din had sustained an ankle injury last week and was left out of the starting lineup, last minute changes led to his inclusion. (All that really means is that the guy showed up unexpectedly and so was immediately thrown in)

Gamal El Din ended up contributing not one, not two, not three, not four, but FIVE of the team's seven goals. The attacker was on fire that night, creating havoc in the opponent's defense line. His lightening-quick final touches made good on passes from the midfield and the defense.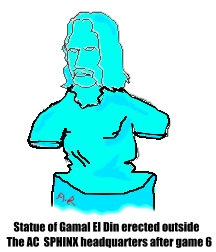 The game was not without suspense. AC Sphinx was down 6-5 (4 scored by stellar Gamal El Din and the other beautifully placed goal by Eloy Cerda); there was one minute left. Haggag made a marvelous run down the right flank and fired a ball into the net which prompted the bench to basically blow up at the prospects of a tie.
What was not expected was what happened next. With less than thirty seconds from the final whistle, AC SPHINX intercepted the ball and passed it to Haggag who made a "one-two" with Gamal El Din as they crept into the opponent's box. Things looked normal until a wisely placed Haggag pass made it through to the treacherous Gamal El Din who put an amazing final touch on the ball….. YEEEAAAH…. with 8 seconds left, AC Sphinx had achieved its first victory.
The Egyptian team reinforced by Turkish internationals Bora and Dalkilic, Bulgarian international Hristov, and Mexican international Cerda, had secured their first win!
In addition to the above mentioned great players, I must acknowledge the invaluable contribution of every other player on that court who gave it his absolute all: Abdel Hak, El Emam, Gadalla, Emad, Khorshid who was indispensable in goal, and Hammad Amer who held very well in central defense. Not to forget Amin who cheered us on from the line - and once again harassed the referee! And special thanks to our loyal fan Neveen, see what effect your card had? ?
Gamal El Din's last-minute-absolute-shocker-goal was a perfect finish to his productive night, and an icing on the cake for a successful performance by a unified AC Sphinx! At that point the players basically invaded the court and started jumping on each other…though this time it was to congratulate each other ?!
Contribution by Reuters and the Associated Press.
Disclaimer: If we get back to losing by 8 goals and crap next game… and after having written the above article of victory and elation… I will simply put my picture with the word "loser" for the next special report.

---
Game Seven: Loss Undermines Good Team Progress
Albeit true that AC Sphinx lost the game 5-3, this was the second game in a row in which the team has continued to show a far improvement from the earlier portion of the league. Indeed these same opponents had thwarted the Sphinx 10-3 in an earlier meet in the season. however, recent team organization has brought down the deficit by 5 goals in this second meet. Not to mention that up until the last 5 mintes of the game both teams were tied at 3-3, after which the Sphinx loosened up and let in two late goals to lose the game.
Haggag scored the first goal with a cool shot after a scramble in the penalty box to bring an early lead to the sphinx. The opponents responded with two goals to lead the game 2-1. 7 minutes before the half, Rehab took posession of the ball around center field and drove into the oppnents half past 3 defenders, unleahing a strong low shot between the legs of the rival fat goalie to bring the game to a tie. This was the midfielder's first goal of the season. "Finally, I get a chance to do my Zidane victory run", he exclaimed.
5 minutes after the half, the score was 3-2 to the Sphinx's disadvantage. Emad then brought the Sphinx once more to a tie, with a goal very similar to Rehab's earlier one. Emad dashed on the left side and shot a strong ball into the side of the net. This was aso his season's first.
Shortly Thereafter, Khorshid who had been having a successful game, recieved a card for yelling abuses at a rival attacker. Khorshid had hugged the ball outside the penalty box for the third time, and after hearing the referee's whistle, the frustrated goalie seemed to be trying to explain that the pushing attacker was to blame.
- "Did it look bad" asked Khorshid in the dressing room,
- "Well, the way you handled the ball outside the penalty box, clutching to it and rolling, looked more like you were trying to capture a runaway chicken, rather than making a save".

Yet, the truth remains, that Khorshid is the team's most valuable goalie - Khorsheeeeeeeed :))
Other cards went to Rehab who obstructed a guy from the other team from taking a free-kick right before the half. "Didn't mean to", said Rehab. "yeah right", said everyone else.
Stellar striker Gamal El Din who had inspired the team's only victory last week with 5 goals, had a rather quiet game this week.
Hani "shatta" Gadalla was in many respects the surprise of the match with good defending efforts.
Next weeks' game against Rain St. Pub will be a very important one for the Sphinx...

---
Game Eight and Nine: SUPRISE!!
We lost game 8, though Haggag scored a hatrick... yey Haggago! The little midgety "Pumas" barely tied us in game nine... boooo!

The workers here in the AC Sphinx newsroom (namely, moi) have gone on strike until the next win.
however, since pictures bespeak volumes as they say, I have posted some of our players photos. Due to budget restraints, I have only included 6 pics, though they are of the prettiest of us. Can you match the pics with the names?
BACK
---
This Report was brought to you by Rehab Reporting Agencies Inc: "commited to bringing you the most useless news in life", and by viewers like you!