II. A Unique Blend

What does it take for an unknown kid (son of Arab immigrants raised in La Castellane, a tough, underprivilidged Marseilles neigborhood) to overcome all odds and become one of the world's modern idols? It takes sincerity, hard work, a standard of excellence, rare talent, and a gracious personality - it takes Zidane. The magnitude of Zidane's accomplishments has changed the face of French society, raising the status of Arabs and other naturalized French immigrants, to a whole new level. Those far-right politicians that had questioned Zidane's French identity prior to his bringing France victory and glory, could only say "Meric Zizou" afterwards.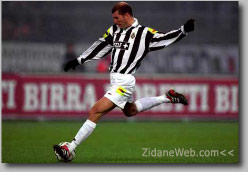 Zidane's technical skills are world class, but matched by some of the game's best players. However, Zidane's footballing mind, and perception is hardly matched by anyone. If other players are great executers of flamboyant plays, Zidane is also their architect. His control of the ball, and his ability to pass the ball at pin point accuracy, creating opportunities out of naught is what I see as the Zidane trademark.

But what sets Zidane apart, aside from his talent, is how he has dealt with his massive popularity and fame. Somehow, he has managed to maintain his niche as the brightest star in the world's most glamorous and followed sport, yet also kept his head level,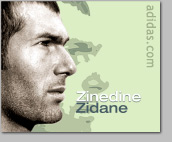 carrying himself as a down to earth, extraordinarily average guy. Zidane has maintained his childhood friends and is still true to the simplest of them. Zidane married at an early age, had 2 beautiful boys, and enjoys a wonerfully healthy family life away from the typical womanizing, wild life of superstars with legions of female admirers to their following. He is a very shy, soft-spoken man who knows his talents, and his limitations and is comfortable being Zidane the man.


<< Previous | Next >>
---