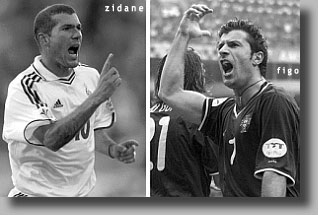 Welcome to ZidaneWeb.com!
A Frenchman of Algerian origin, former star of Juventus and current star of Real Madrid, two of the the most prestigious club teams in the world, Zidane is also star/hero of the French national soccer team. Zidane is a powerful yet elegant player on the pitch, and a reserved and respectable personality off the pitch. He is well known for his calmness and confidence when in control of the ball; his dexterity, mobility and good eye are reminiscent of such legends as Pele. His decisions on what to with the ball are wise and insightful, as his passes and runs are often deadly. Yet, not only is Zidane a talented footballer with impressive personal skills and a great affinity for effective team work, but also a role model for great sportsmanship.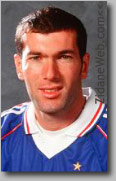 In 1998, the invaluable contribution of Zidane (netting twice in the finals), enabled France to clinch the world cup trophy. In 2000, he returned to the world arena to once again display class, confidence, and style, leading France into winning the European Nations Cup (Euro 2000), the first nation to do so whilst in possession of the world cup. Zizou, twice world player of the year and golden ball award winner, is most valuable for the man that he is: kind, generous, modest, and an inspiration to youth everywhere. In short, Zidane is a definite example of how a successful soccer player is not merely a physical talent but also a perceptive mind and a distinguished personality.

I am proud to dedicate this website in recognition and appreciation of one of my modern idols, Zinedine Zidane. I I wish you an enjoyable time as you roam its pages.

- Ahmed
Note: In order to read about a specific picture throughout this site, simply place your mouse cursor over the picture.
Sign GuestBook | View GuestBook
---