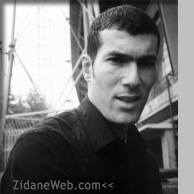 I. Destined Sports Legend

French society was changed forever July 19th, 1998. It was the championship game of the coveted World Cup tournament hosted by France. France was to face Brazil, a soccer giant that ignites respect and fear in all oponents. Brazil had won the previous world cup, held in the US, and had to its name the most number of titles, four. On that historic day, France was at a standstill, as was much of the world. Hundreds of millions of people tuned in to watch the much anticipated game; the expectation was that Brazil would once again dominate the world soccer scene and emerge as winners. World Cameras focused on the confident frown of one familiar player as he enagaged in pre-game warm ups on the pitch, "If France has any hope tonight" said one commentator, "this man will be it". The man he spoke of and on which all eyes were focused was none other than Zinedine Zidane, already famous for his serene, graceful style of play, and his focus and determination, and billed as France's potential savior.


Zidane came through, as all champions do when it matters most. He surprised spectators all over the world with not one, but two lethal headers in the first half that immediately put the game beyond Brazil's reach. Zidane's general performance in the game, indeed through the whole tournament, was inspirational and decisive. The game ended 3-0 after a last minute Emanuelle Petit goal. Not only had France won the world cup for the first time ever, but they had won it convincingly and in style. Their defensive and goal keeping record was the best ever of any world cup. The new comers had taught the Brazilian giants a lesson in football and launched a new era for French football. France was ecstatic, the nation was propelled into days and nights of wild, joyful celebrations, and at every point, no one forgot the man responsible, Zinedine Zidane.


Zidane and his teammates returned again to clench the European Nation's cup two years later in the Netherlands. Zidane had sealed his dominance and confirmed himself in a class of his own. Today, Zizou is France's pride and glory - no less an idol to France than Michael Jordan was to the US in his heyday. Zidane, by virtue of soccer's unmatched world popularity, is not only a French idol but a world idol. Indeed, here I am, an American, revelling in his admiration.


Next >>
---