III. A Good Life

Zidane's life has been interesting. Apart from the wealth, fame, and power his talent has afforded him, Zidane has a lot going for him. A tightly knit family that offers him love and support: his parents, 2 brothers, sister, wife, and 2 kids. He has lived in France, Italy, and Spain, the 3 countries most associated with 'la joie de vivre' (the joy of living). He speaks French, Italian, Spanish, and Arabic. Zidane has been involved in many charities and has been elected as a UN good will ambassador. Zinedine (a Muslim name which means "beauty of faith" in Arabic) also enjoys some fun pastimes such as tennis, formula 1, cooking, and boating.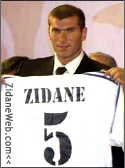 Zidane's wife Veronique is an ex-dance instructor of Spanish origin, he has two kids: Enzo, named after his soccer idol Enzo Francescolli, and Luca.

Zidane's fame is much attributed to his playing for 2 of the world's most respected football clubs: Juventus and Real Madrid. At Juventus, he has accomplished a lot, and it was there that he was launched as a world class player.... Today, Zidane is adjusting to his new club, Real Madrid, I wish him the best of luck there.


<< Previous
---